Adopt Some Love – Two Women Make it Their Mission to Save Hundreds of Dogs and Cats in Rural Oklahoma
The first thing you need to know about 3 Girls Animal Rescue in Poteau, OK– they are all volunteers.
The second thing you need to know about 3 Girls Animal Rescue – they are actually two girls, they say the third girl symbolizes the volunteers.
The third thing you need to know about 3 Girls Animal Rescue – they are the only hope for hundreds of animals in LeFlore County, Oklahoma. Poteau is a small rural town located in the southeastern part of Oklahoma, not far from Fort Smith, Arkansas. Poteau has a pound – not a shelter. Animals taken in as strays are held for 5 days. If animals are not claimed or pulled by 3 Girls Animal Rescue, they are euthanized on the 5th day. Owner give ups are destroyed in one day, unless they are saved by 3 Girls. That's the heartbreaking and shocking reality that Mitzi and Angela work with every day.
3 Girls Animal rescue was founded in 2013 (and incorporated a year later) to give animals in Poteau and Wister, Oklahoma a fighting chance – the tiny organization saved 450 dogs and cats in its first year.
In 2014, they saved 419 animals and for 2015, they are on track to rescue over 600 animals.
Say Hello to Bernie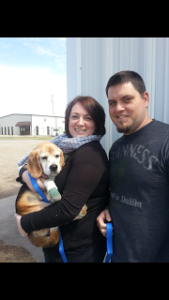 Mitzi got a call and went out in a snowstorm to rescue this precious boy. He was around 8-10 years old, deaf from chronic, untreated ear infections, almost blind, heartworm positive, and absolutely the cutest thing she'd had ever seen! Mitzi figured he'd spend the rest of his years at her house, but this wonderful couple saw his picture and fell in love! They drove 2 1/2 hours to adopt him. Say hello to Bernie and his family!
Mitzi and Angela work as a strong team, doing everything in their power to save animals in LeFlore County. One of their greatest successes came in July 2014 when the team worked to change city code to end the gassing of dogs and cats – animals are now taken to local veterinarians to be euthanized. (sadly, there are still municipalities that gas animals)
It's Mitzi that visits the pound every other day to pull the animals. "It's a heartbreaking but rewarding life," she confessed, "but I feel blessed to get to rescue. We are the only hope these babies have." She also recruits and works with fosters.
She reminds fosters of the vital role they play in saving animals lives, "If we don't save them, they won't have another chance." That's not hyperbole, that's fact, the pounds do not adopt out animals, if they aren't pulled by 3 Girls Animal Rescue, the dogs and cats don't survive.
Mitzi and Angela work to ensure that all dogs and cats are fully vetted – up to date on shots, as well as spayed and neutered. They work with three vet clinics in the area. It costs 3 Girls a minimum of $120 per dog to get it ready for adoption. The majority of dogs and cats they save need to be spayed and neutered. The animals suffer from worms, ear mites and unfortunately – heart worms. It's not unusual for vet bills to reach several hundred dollars for a dog with heart worms – but they will do whatever is needed to save that animal and get it adopted.
It's not plausible that the hundreds of animals Mitzi pulls from the pound will be adopted in LeFlore County or even across the river in Fort Smith – and that's where Angela comes in. Angela is the master networker and logistics maven. She works with rescue organizations in Colorado, Illinois and Connecticut to take the vetted animals and provide them homes. She also schedules all the transportation for the animals. So once or twice a month Mitzi, Angela, and a volunteer will drive a van load of healthy animals to their first stop to a forever home. With no money for over-night stays, those animal transports are often one day turn arounds, and each season brings weather challenges.
Mitzi and Angela work part time to help keep the rescue afloat. Running a rescue is financially and emotionally draining. Mitzi says the team's spouses are incredibly supportive and will step in when they sense a member of the duo needs a break. They also could not do it without the support of volunteers and fosters.
Long term the team wants to continue to rescue animals and would like to start a low-cost spay neuter facility in LeFlore County. "Our number one challenge is over population," Mitzi says. She said 3 Girls recently initiated a policy, "we won't take an owner's puppies unless they promise to spay the mother. We had to, we kept getting litter after litter from the same dog."
So what's on 3 Girls wish list and how can you help?
Donate. It costs 3 Girls a minimum of $120 to save a dog and $89 per cat and while they have great relationships with their partner rescues in Colorado, Illinois and Connecticut, those organizations don't reimburse for or share vetting or transportation costs. Donate to help the cause!
Network. Do you know a rescue group that accepts healthy animals from out of state, maybe one that shares costs and fees? Do you know of organizations that can help bring low-cost spay and neuter to services to Poteau? Do you have friends and family in Oklahoma or Arkansas that can foster or volunteer?
Educate. Share the story of 3 Girls Animal Rescue with your friends and network. Do you have a contact or expertise that can help 3 Girls expand? Share it! Currently 3 Girls is funded through private donations, but they'd love to apply for grants – ideas are welcome!
Shop. PawsGo is honored to support 3 Girls with these market bags. We created and produced them for 3 Girls, to help support their rescue efforts. Bags are $20 each and you can find them through PawsGo (www.pawsgo.com) or 3 Girls Animal Rescue.
3 Girls is also registered on Igive.com.
We rescue because these animals have so much love to give. We rescue because when we look into the eyes of the dogs and cats in those pens at the pound, we see souls. We see fear, where there should be joy, and we HAVE to help them – 3 Girls Animal Rescue.
3 Girls Animal Rescue
P.O. Box 1001
Shady Point, Oklahoma 74956